Cable hooks - an accessory for the M Public Display Stand and the basic Display Stand series.
Keeping your cables together and neat when moving the Display Stand around.

These hooks are easily mounted in the rail of the pillar of the Display Stand. One hook pointing upwards the other down. Now you can wrap your cables are wrapped around the hooks. When finish wrapping the cables are in place and the equipment is more easily moved around between rooms. A perfect solution to keep your cables neat and out of the way. Designed in Black color to match the main pillar.




SPECIFICATION
M Public Display Stand Cable Hooks Black
For:

Wiring Cables

Feature:

Adjustable height

Material:

Steel

Article No:

7 350 073 730 759

Size in mm: (LxWxH)

77,2 x 28 x 146 mm

Adjustable height / Length:

Yes, within the pillar / Yes

Weight:

0,2 kg

Colour:

Black

Max load:

5 kg

Warranty:

5 years
Quick facts
Suitable for: Public Display Stand Series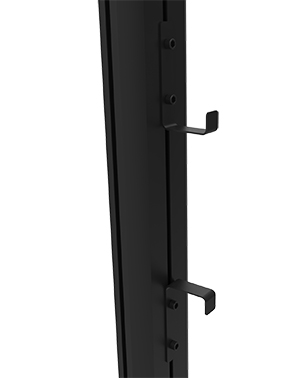 Click on the thumbnail for a larger image:




Downloads

Manual

High resolution photos

Product sheet

Product Flyer in English

Product Flyer in Swedish

Product Flyer in German

Product Flyer in Finnish

Product Flyer in Italian

Product Flyer in French

Product Flyer in Hungarian

Product Flyer in Lithuanian

Product Flyer in Dutch

Product Flyer in Norwegian