This camera holder is designed as a videoconference camera shelf that installs easily on the M Motorized Floorstand HD series.

This shelf suitable for videoconferencing cameras and such is designed to fit perfectly with the M Motorized Floorstand series.
As many videoconference cameras today has voice recognition/ movement the M Camera Holder Motorized Mount HD also features holes for securing the camera to the shelf with ease and eliminating chance of movement and /or possible damage to camera.



SPECIFICATION
M Camera Holder Motorized Mount HD/ SD
Suitable for:

Web camera

Feature:

Heavy duty camera holder

Material:

Steel

Article No:

7 350 073 731 183

Size in mm: (WxDxH)

229x223x346 mm

Adjustable height / Tilt:

Yes, within the pillar

Weight:

2,7 kg

Colour:

White

Max load:

10 kg

Warranty:

5 years
Quick facts
Suitable for: M Motorized Mount HD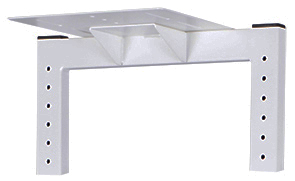 Click on the thumbnail for a larger image: