The M White Board Adapter Kit Motorized Mount HD is an accessory to the M Motorized Floorstand HD series.

Multibrackets M Motorized Mount HD series can easily be converted to hold a White Board. Simply install this adapter kit and the M Motorized Floorstand is now ready to us a White Board instead of the original large screen LCD/ LED that the product comes with as a standard.

After installation the same smart up and down movement as for the LCD/ LED can be reached for the white board.
After installation of the white board one can now control the height of the Whiteboard with the included wall mounted remote control.
Any usage of the white board can be set to the precise preferential of the current user.



SPECIFICATION
M White Board Adapter Kit Motorized Mount HD/ SD
Suitable for:

White boards with height: 1050 - 1470 mm

Article No:

7 350 073 731 237

Adjustable:

Yes

Interactiv White Board Height:

1050 - 1470 mm

Weight:

7 kg

Colour:

White

Warranty:

5 years
Quick facts
Suitable for: M Motorized Mount HD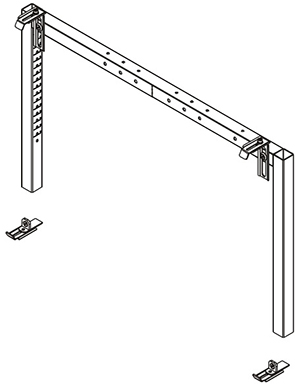 Click on the thumbnail for a larger image: