Multibrackets M Universal Cable Sock.

Finally a solution that gives you the highest quality of cablehide to an equal aggressive pricepoint. Match the quality in your home cinema or hifi system with equal quality when hiding your recess wiring.

The M Universal Cable Sock is knitted polyester of highest quality and with sleek nordic design. The M Universal Cable Socks holds any type of cables for example Scart, HDMI, CRT, VGA and other main leads and expands easily.

Expansion of the M Universal Cable Sock is approximately twice the size of the cable sock unexpanded, 20mm (40mm expanded), 40mm (80mm expanded), 55mm (110mm expanded).

Different sizes and colours give all users the possibility to individually choose size and colour depending on certain needs. Multibrackets has a large variety of choices in both colours and lengths.

The M Universal Cable Sock are perfect products for easy hide of your wiring at home, or in the office.

Available colours:

Silver

White

Black

Available widths:

20 mm

40 mm

55 mm

Available lengths:

2 m

5 m

10 m

This item is made of fire retardant material.
Suggested surrounding temperature: -15C to +65C

Please, select desired colour and size in the dropdown menu in the right-top corner.



SPECIFICATION
M Universal Cable Sock White 20mm-W 2m-L
Material:

Polyester

Article No:

7 350 022 731 455

Sock width:
Unexpanded: 20mm (Expanded: 40mm)
Sock length:

2 m

Colour:

White

Package weight:

0,30 kg

Distribution package:

24 pcs

Warranty:

5 years
Quick facts
Material: Polyester
Available colours: Silver, White, Black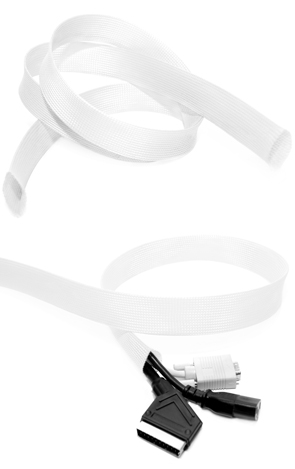 Click on the thumbnail for a larger image: