Multibrackets Framed Projection Screen Deluxe is a beautifully designed flat aluminium framed screen. The frame itself is coated with black velvet material to reduce glare completely.

Multibrackets Framed Projection Screen Deluxe offers fantastic value for money and is ideal for home cinema, boardroom or corporate use.


The frame is easy to assemble and the flexible screen fabric is simple to mount thanks to the tension bar and hook system.
Full fixing kit included.
Available with matte white screen fabric for display of natural colours.
Gain number is 1.0.



Projection Screen Formats - FAQ

Projection Screen Terms - FAQ
SPECIFICATION
M 4:3 Framed Projection Screen Deluxe 145x110, 72"
Article No:

7 350 022 731 950

Format:

4:3

Size:

72"

Projection area:

1,45 x 1,1 m

Diagonal:

1,83 m

Motor:

No

Remote:

No

Frame colour:

Black

Surface:

Matte white

Gain:

1,0

Frame:

8 cm

Weight:
8,3 kg
Frame measurements:

161 x 126 x 3 cm (L*W*H)

Single package measurements:

164 x 22 x 14 cm (L*W*H)

Single package weight:

10,2 kg

Distribution package:

4 pcs

Distribution package measurements:

170 x 47 x 32 cm (L*W*H)

Distribution package weight:

42,2 kg

Warranty:

1 year
Quick facts
Suitable for: Projectors
Screensize: 72"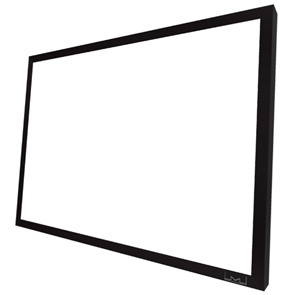 Click on the thumbnail for a larger image: