The M Universal Wallmount and the M Universal Wallmount Super Slim are patented by Multibrackets.
Patent SE 526 502
Patent DK, FI, IT, NL, PL, RO, CH, ES, GB, TR, CZ, FR 1 725 779
Patent DE 60 2005 022 569.2-08
Patent US 7,661,640

Multibrackets unique wallmount fits nearly all large display screens on the market. The public version includes padlocks and is suited perfectly for public installations and video wall (multi-screen) installations.

This is Multibrackets exceptional versatile wallmount covering a range of working areas. Still the mount is simple, easy to install and very cost efficient. We often are told this mount is an "installers' dream" making it possible to reuse the knowledge and make different installations with the same product. Also the products packaging is so small it makes the perfect standard companion in any installers truck.

The Multibrackets M Universal Public Wallmounts are equipped with a level metering bubble as well as a generous multiple hole pattern to mount the wallmount with ease to nearly any wall in no time. No need trying to find the right spot, let the M Universal Public Wallmount do it for you!

Thanks to the included Multibrackets Anti-theft system, you can also lock the screen to the wallmount. The M Universal Public Wallmount has 2pcs security padlocks included.

Public installations
The included padlocks safely secure the screens on both ends at any public environment whether it is a pub or an airport.

With the help of the slide-in installation you can easily slide-in and out the screens for afterservice. A screen can use one or two M Universal Public Wallmounts if the need for extra safety is needed in public.

Some highlights when installed in public areas:

Small size transportation box makes handling easy

Fast and non complicated installation process

Move the screen left or right after installation is completed

Fast slide in and slide out process for fast afterservice

Security Padlocks included for safety

Patented low profile mount design makes it ideal for public installations

Video Wall
The M Universal Public Wallmount delivers an all-in-one, easy-to-configure and cost-effective solution for solving the need to make multiple screens into one giant screen. By putting the M Universal Public Wallmounts "side by side" you can easily make a video wall of any size in height or width. The unique design of the M Universal Public Wallmount also makes it possible to increase width or height of your video wall at any time.

Unlike many standard wallmounts the M Universal Public Wallmount is perfect for making video wall installations, easy and more effective. These multi-monitor wall system installations are perfect for creating extra large screens to display video, digital signage, advertising, powerpoint presentations, art, live shows, high resolution images, or anything else your company or organization might want to address the public with a larger message.

With the M Universal Public Wallmount this is possible, now anyone can build a video wall!

Multi screen and video wall highlights:

Move the Video Wall left or right after installation is completed

Included padlocks safely secure the screens on both ends at any public environment

Easily increase the number of installed screens left or right at any time

Fast side by side - slide in installation for efficient afterservice



Test report by KTH - The Royal Institute of Technology in Sweden
Multibrackets Universal Wallmounts have been specially tested by the Royal Institute of Technology in Sweden.


Read the whole report by clicking here.
Tested and documented for weights up to 500 kg by KTH Solid Mechanics
The Royal Institute of Technology in Sweden

Multibrackets Universal Wallmount video
See the Multibrackets Universal Wallmount video in other languages:
|

|

|

|

|
|
|
|

|
Share link to this video: Right click on the flag, choose "Copy shortcut" or "Copy link location" and paste the link where you prefer to share.
SPECIFICATION
M Universal Public Wallmount Black Small
For screen size:

26-32"

Universal:

Max holepattern 450mm wide and 2000 mm high

VESA standard:

200x100 200x200 300x300 or 400x400 mm

Article No:

7 350 022 734 159

Size in mm:

500x40

Tilt:

No

Weight:

1,2 kg

Colour:

Black

Max load:

80 kg

Lock inlcuded:

Yes, 2 pcs

Lock colour:

Chrome

Warranty:

5 years
Quick facts
Suitable for: LCD & Plasma
Screensize: 26-32"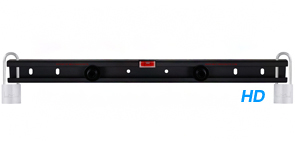 Click on the thumbnail for a larger image: