The M Motorized Tilt Mount is a tilt mount type motorized TV arm. It tilts your TV screen up to 15 degrees. This allows you to watch your TV in an optimal angle from your TV sofa.

As the M Motorized Tilt Mount optimizes your TV angle, it also makes the most out your living room setting and can create an optimal viewing angle for home or office environments. Furthermore the possibility to a preset preferred tilt angle gets rid of your juggling with your remote control over and over again, getting your TV into the right position.


Your friends will be amazed
when the TV tilts down by the
press of a button.
The M Motorized Tilt Mount also has a built in safety protection function that kicks in if something blocks its tilt movement, it automatically the goes to a full stop.

Overall the M Motorized Tilt Mount is both functional and stylish. With that said when the TV is turned off, your M Motorized Tilt Mount returns to its home position.

In an non extended position the M Motorized Tilt Mount builds only 25mm from the wall, making it a perfect partner for a Slim LCD or LED TV.

M Motorized Tilt Mount video






SPECIFICATION
M Motorized Tilt Mount Medium
For screen size:

26-40"

VESA standard:

100x100 200x100 200x200 mm

Article No:

7 350 022 734 517

Colour:

Black

Max load:

22,5 kg

Distribution package:

available in a moment

Warranty:

1 year

Remote control:

Any IR remote control

Certification:

CE

Power:

DC12V, 0,5A

Weight:

5,2 kg

Tilt angle:

0 — +15 degrees

Size in mm:

available in a moment

Gift box size in mm:

available in a moment
Quick facts
Suitable for: LCD, LED
Screensize: 26-40"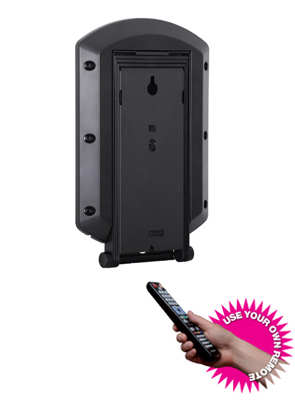 Click on the thumbnail for a larger image:



See Multibrackets Channel on Youtube:


Multibrackets Channel