The Quad triple jointed gas suspended monitorarm was designed by Multibrackets to optimize your productivity and help reducing strain on neck, back and eyes.

The M Vesa Gas Lift Arm is made out of a durable aluminum construction and uses a gas driven suspension technique. This makes the screens "float" and they can be moved with near zero effort. Sleek and streamlined, the M Vesa Gas Lift Arm frees up space and allows positioning of your displays for greater productivity. Fingertip tilt provides smooth adjustment for two LCD´s in any direction. Easy move the screen from landscape to portrait position or move the screens close to the desk, high up, matching almost any wanted working position imaginable.

Supports VESA standards 75x75 and 100x100 and holds screens weighing from minimum of 2kg and up to maximum of 10kg each.


Our M VESA Gaslift Arms utilize real gas lift cylinders. This German invented technology is used for a wide variety of industries and applications.

The gas cylinders make your screen float and moved around by your hand or even fingertip.


The snap on heads gives a fast assembly and disassembly of the LCD perfect for any IT department who wants to minimize downtime.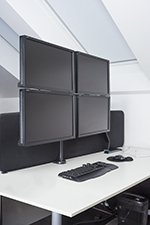 The M Vesa Gas Lift Arm Quad holds to your standard workdesk (max 50mm), or assemble it using a workdesk thru hole technique. 

Available in Silver, Black and White.


Want to configure several LCD´s side by side?

Want to easily change the position of your LCD screens with near zero effort?

Tired of a workdesk all jammed up by screens?

Want to change viewing angle for sitting or standing position, landscape or portait mode?

M VESA Gas Lift Arm video






SPECIFICATION
M VESA Gas Lift Arm I Quad Silver
For screen size:

15-(32")*

VESA standard:

75x75 100x100 mm

Article No:

7 350 022 737 228

Colour:

Silver

Screen weight:

Min. 2 kg — Max. 10 kg

Function:

Gas driven piston

Warranty:

2 years

Weight:

10,3 kg

Tilt angle:

+75 — -45 degrees

Turn angle:

+90 — -90 degrees

Rotate:

90 degrees

Distribution package:

1 pcs

Single box size:

95x25x14cm

Distribution box size:

95x25x14cm
* Important regarding maximum screen size. Check prior to purchase.
The Gas Lift Arm series is a very flexible product series and can handle many screen models. When using double or quad version in combination with very large screens of sizes 24", 27", 30" or even 32" it is important to double check the compatibility with the Gas Lift Arm before usage.

General restrictions:
- Max width of a screen is 750mm
- Max height of a screen is 500mm
- Max weight of a screen is 2-10 kg

Note 1:
Some larger screen series do have measurements and weight that exceed our recommendations. Such models are not recommended to be used with the Gas Lift Arm Series.
Note 2:
If combinations of different screen sizes are used with Dual or Quad Gas Liftm Arm Series flexibility would be better.
Note 3:
If multiple larger screens are used, then the flexibility and movement between the screens are likely to decrease.

If you are uncertain, or need guidance to check that your screen fits the Gas Lift Arm Series, please do not hesitate to contact us.


Quick facts
Suitable for: LCD, LED
Screensize: 15-32"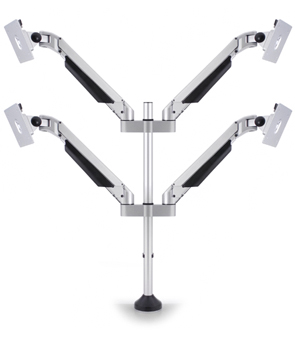 Click on the thumbnail for a larger image: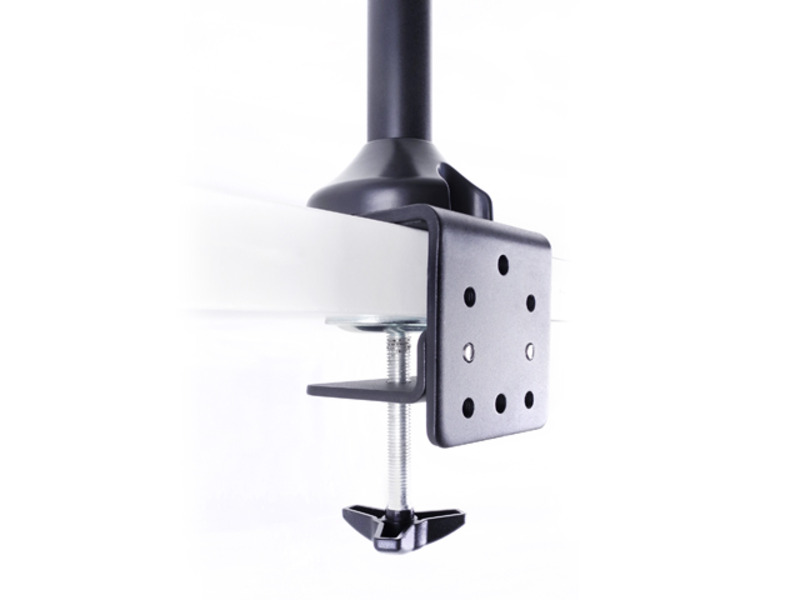 See Multibrackets Channel on Youtube:


Multibrackets Channel