Multibrackets Public Display Stand 180 Dual MediaBox4 is one of the most flexible and multifunctional display stand of its kind. The display possibility makes this unit optimal for videoconferencing and more detailed presentations where a large screen scenario might be needed. The 180 cm height is useful for both for conference rooms or other situations where the viewers are sitting down and in public areas such as trade shows, hospitals and other places where the audience are standing. So get an optimal positioning for both seated and standing audiences - in any part of your facility.

Our M Public Display Stand has a versatile usage area. Mainly made out of a light weight aluminum construction it is both heavy duty and will support most ideas and environments it is placed in.



The Mediabox4 cabinet is versatile and highly accessible. The picture displays the easy access from behind to backside of any equipment placed inside the Mediabox4.

When developed much emphasize has been put into the stability and overall quality of the display stand, both when put in place but also when in movement. As a stabile and sophisticated display stand base with wheels are included as standard. This means the series is very easy to move around. This makes it a perfect partner for use in public environments such as conference rooms, class rooms or hospitals.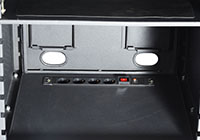 The bottom inside of the Mediabox4 houses a separate 220v power rail supporting the units placed inside the Mediabox4 with power.

M Multibrackets Public Display Stand can be used with screens in a standard landscape mode. The massive Mediabox4 stores all needed equipment.

In short: Your imagination is this products limitation.

Highlights

Present digital content wherever you want it

Easy to assemble and install

Roll the display stand through standard size doorways and thresholds

180cm height perfect for conference room, class room or elsewhere where there is both seated and standing audience

Optional: Camera holder

Heavy duty, light weight construction

Comes as standard in Silver, optionally available in black

Built in 220V outlet (UK outlet optional) Mediabox 625x435x460 has built in shelves to store your equipment. Check separate picture for exact measurements.


SPECIFICATION
M Public Display Stand 180 Dual MediaBox4 Silver
For screen size:

40-60" (larger screens are dependant on size, check technical drawing)

Feature:

Safe storage for electronic equipment

VESA standard:

Up to 800x400 mm

Article No:

7 350 022 737 778

Size in mm: (WxDxH)

available in a moment

Adjustable height / Tilt:

Yes / Yes

Weight:

63.6 kg

Colour:

Silver

Max load per screen:

40 kg

Warranty:

5 years
Quick facts
Suitable for: Public evironments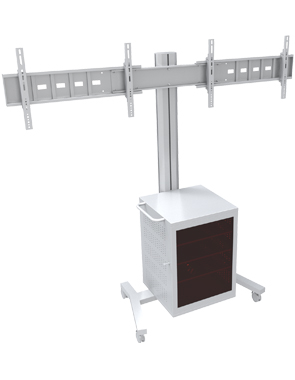 Click on the thumbnail for a larger image:



Downloads

Manual

High resolution photos

Product sheet

Product Flyer in English

Product Flyer in Swedish

Product Flyer in German

Product Flyer in Finnish

Product Flyer in Italian

Product Flyer in French

Product Flyer in Hungarian

Product Flyer in Lithuanian

Product Flyer in Dutch

Product Flyer in Norwegian