Green means business!
To maintain our distributors margins at a time of record oil prices are raising the cost of importing and trasporting goods.

Multibrackets is continuosly improving the way our products are made and how they are transported.

One example: We made our gift boxes smaller, it leads Multibrackets to use less paper to create our gift boxes, which in its turn use less petroleum and water to manufacture them. They can thereafter be shipped with more units in each carton, which also makes it possible to transport more units on each ship or truck, which then reduces the amount of gasoline used to get those units from the factory to each Multibrackets distributor. From there the distributor pays less and needs less space to warehouse and ship the products to their retailer and so on.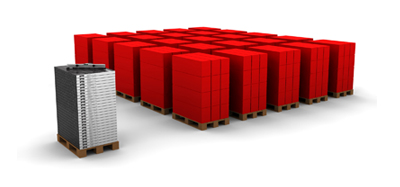 The result: Multibrackets and its distributors can more easily maintain its margins, and vastly reduce its resource consumption as well as that of its suppliers.

These realities—adopting environmentally friendly business — is us signalling new seriousness about "sustainability" the word for long-term growth that doesn't deplete natural resources and lowers emissions of greenhouse gases.



Why choose Multibrackets?
Multibrackets' ingeniously simple, discrete and elegant design is, as you can see for yourself on this website, truly unique.


One of the markets widest range of products.
All our products are truly unique and discreetly elegant in design.
All products are packaged in stylish packing to be self promoting in shops or other areas for display.
Our wallmounts fit all flat panel displays on the global market. Distributors and retailers need therefore not keep a wide range of different mounts and brackets and terefore save on storage costs. One type of wallmount is enough – Multibrackets
All products are made to be very easy to assamble.
Our patent pending Wallmount add only approximately 30 mm from the wall. (With most other wall mounts on the market, that number is 60 mm).
In addition the exceptional features and packaging the Multibrackets product range is also one of the best priced on the market, giving distributors and retailers a good margin.